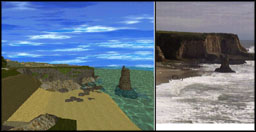 The BioLearn World is a work-in-progress. It is a companion to LifeLearn, a bioregional learning center of the North California Coast. Visitors can fly down from a satellite view to the virtual coast of Davenport, California.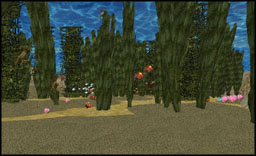 Visitors can teleport directly underwater to the kelp forest which is filled with local ocean life such as greenling, garibaldi, schools of senorita fish and jellyfish.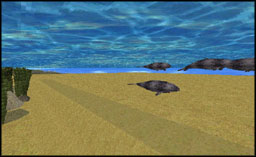 A gray whale swims in the deeper ocean behind the the kelp forest. Pods of dolphins are smimming in other areas of the ocean. This ocean environment will soon be linked to a series of information about the life and ecology of the Monterey Bay.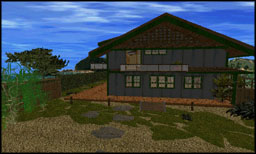 Teleporting to the Japanese garden in front of the LifeLearn Center, you can click on parts of the surrounding environment to link to information about sustainable architecture, the philosophy behind Japanese gardens, and the history and ecological uses of bamboo.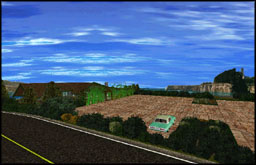 The entrance and parking lot area of the virtual LifeLearn Center features native plants such as Erigeron glaucus (beach aster) and Eriophyllum staechadifolium (seaside golden yarrow). The parking lot itself has a real shale surface to encourage a sensitivity to the natural landscape of the cliffs.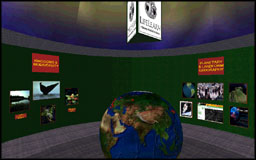 In addition to the main LifeLearn Center on the virtual cliffs of BioLearn, five Galleries are in the BioLearn World. Each gallery is a portal to high-quality information from all over the world. Here the Global Simulation Gallery/Center contains information about the local bioregion and its relationship to the biosphere with theme walls covering "Kingdoms & Biodiversity," "Planetary & Landform Geography," "Ocean, Weather & Biospherics," "Local Bioregion Ecosystems and Watersheds," "Human Ecology," and "Systems, Complexity & Interdependence."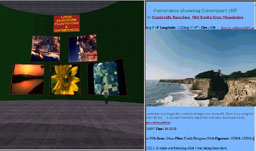 Local bioregion links can be found in one of six different theme areas of the Global Simulation Center. Here, each image brings up thousands of maps, photos, aerial photos of the biodiversity, watersheds and habitats of the N. California Coast. We have clicked on a link to a QTVR pan of the Davenport cliffs from the pages of Erik Goetze.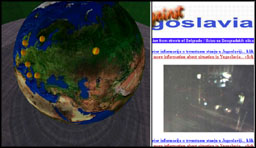 Visitors to the Global Simulation Center can fly around the 3D satellite globe and link to live webcams from all over the planet. Using a geospatial reference, hotspots are linked to live cam shots from places such as Mt. Etna, Italy, The Wall in Jerusalem, Cape Town, South Africa, Mt. Shasta, California, Oslo, Norway and others. For example, flying above the globe over Europe, you can click on the hotspot on Yugoslavia to bring up this realtime view from a live webcam in Belgrade.
Visitors may even enter the globe by using their shift key, in order to view the planet from the inside and click onto the webcam hotspots from there.