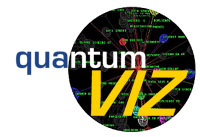 10011001001001000111101010111010101001001001000101010001001000101000
11101010110001010100101001001010101010010010010010100010100011001001010
10101001001000100101111010111100000101010100101010010100010100101100101

QuantumVIZ: Social Networks, Planetary Visualization & Dynamic InfoScapes - 2D, 3D, N-D"
Where: McBean Theatre, Exploratorium, San Francisco (directions)
When: Monday June 10, 6pm to 10pm

By Private Invitation
(OUR HOUSE IS FULL & WE HAVE ADDED A SECOND SCREEN FOR THE MAIN SCREEN PRESENTATIONS. DOORS OPEN FOR THE MCBEAN AT 5:30 AND MCBEAN THEATRE CLOSES PROMPTLY AT 6PM. PLEASE ARRIVE ON TIME - LATE ARRIVALS WILL VIEW MAIN PRESENTATIONS FOR PROGRAM 1 ON THE SECOND SCREEN. devarco@cruzio.com)
The World Wide Web is continually evolving into its next form. This meeting and series of presentations will introduce many of the leaders in the next generation of web-based information visualization technologies to each other and will offer a full-screen visual feast of what is possible in dynamic information landscapes in 2D, 3D and more. Presentations will include agent driven information technologies, dynamic social network technologies, computational modeling and the newest generation of tools for geospatial visualization, collaborative visualization and telepresence.
Overview | Program 1| Reception & Teleschmooze
Open Multiscreen Session | Program 2 | Howard Bloom Tele-Address
Closing by Jim Herriot
The Challenge – We are rapidly entering a time unprecedented in history. We are collectively being challenged to meet this period of accelerated globalization and communication with new solutions, well suited to the latest generation of information technologies. The distributed evolution of the World Wide Web and today's growth of both broadband and wireless technologies have presented us with both opportunities and landmines. This is a time in which a critical mass of visionaries and vision must match the technologies that have been deployed since the Internet was in its infancy.
This event is a response to the need for us to collectively assess and develop a new breed of network tools, information ecologies, and predictive tools for deployment through the WWW. These tools will enable us to:
EVENT SCHEDULE:
WARMING UP FOR A CREATIVE EPIPHANY, OR JUST BEFORE THE SUN COMES OUT
Jim Herriot PhD,
www.herriot.com & www.biosgroup.com
Time was when the King of Productivity ruled the land. We complied. Even computers complied. But times have changed. Game over. History has grandly rounded a corner. Now Creativity in Her greater majesty enlightens our fertile land. Computers are happy. Lowly data processors have become artists' easels. We humans co-create with these eager dry-ware partners daily. And now we're invited live our lives imaginatively in those spacious moments of "just BEFORE" the next Creative Epiphany. Appropriately, this talk will come just before a the visual feast of the evening, a quantum leap in envisioning, QuantumVIZ.
6:15-7pm
Collaborative Knowledge Mapping & Agent-based Info VIZ
MAPPING DYNAMIC SOCIAL NETWORKS
Valdis Krebs (remote) and Jan Hauser
http://www.orgnet.com
Valdis Krebs will discuss via voice, his pioneering work in dynamic social networks, including organizational networks, computer network and terrorist networks. How are they are similar, and how they are different? Where are they are strong, and where they are weak?

OPEN SOURCE INTELLIGENCE & EMERGENT COLLABORATION: DYNAMIC DATAVIZ
William Moulton, Navagent & Surf3D http://www.navagent.com/products/gallery/animation/
Moulton will discuss the challenge of using visualization tools to correlate a constellation of connectivity between the realworld networks (location-based geographic topologies), knowledge networks (analytical or data-based conceptual topologies) and social engagement networks (human process and collaboration-based associations).

ZIGZAG SOFTWARE: Quantum Hyperspace & MorphableND
Ted Nelson, Founder, Project Xanadu (the original hypertext project)
http://xanadu.com
Computers are born free, yet everywhere they are in chains. Able to represent any imaginable construct, the computer has instead been lowered to simulating hierarchy and paper (today's interfaces and applications). Zzstructure (trademarked in the USA as ZigZag®) is a system of constructs designed as building blocks for a new computer world-- without files, hierarchy or applications, but far easier to use-- offering simple exploration, casual database, and far easier programmability. ZigZag software is also intended for both discrete and continuous high-power visualizations-- allowing multidimensional morphing of both individual objects and the viewing space (MorphableND™).
7-8:00 pm
Wine & Hors d'oeuvres Reception
TELESCHMOOZING WITH SURPRISE GUESTS & AVATARS FROM AROUND THE WORLD.... Video Conferencing, 3D Worlds and more. Bruce will show work being done by DigitalSpace for USRA/RIACS and NASA to model a "day in the life on Mars" where activities aboard a human Mars lander are recreated in 3D space. www.atmospherians.com Bruce Damer

HITACHI AIRSHO
http://www.hitachi.com/lcd/air_sho/index.html
All Teleschmoozing will be seen on the big screen and on the Hitachi AirSho Display System, a unique and eye-catching leading edge display technology. Consisting of a high-lumen Hitachi LCD projector and a micro-thin screen, the AirSho Display System is able to transform virtually any transparent surface into a vibrant holographic display.

MARS LANDER COLLABORATORY - The Web Interface for Telescience (WITS) has been developed by NASA to enable scientists to participate in Mars lander and rover missions from their home institutions. WITS provides downlink data visualization and uplink sequence generation. Distributed collaboration enables groups of geographically distributed users to collaboratively view downlink data and collaboratively generate uplink sequences. Paul Backes (remote link from Southern California).

Special LIVE VoiceLink with James Burke, of CONNECTIONS
James Burke and his Knowledge Web project, pushes the study of history to the leading edge of science, technology, information visualization and representation. The Knowledge Web Project is creating a networked learning tool to bring history alive for K12 students in the US and eventually around the world. In his many books and innovative award winning television series, Burke, the well-known historian of innovation, has developed a unique approach to making the stories of history vivid by illuminating the serendipitous nature of connections in the history of science and invention. He will take a few moments to introduce the QVIZ attendees to the exciting potential of the "Knowledge Web." His California partner, Professor Patrick McKercher, will continue the discussion and demonstration of this volunteer collaboration across the continents.
7 - 8:00pm
Multi-screen Open Session - Simulation and Collaboration
Note - All main screen presentations will continue on their own screen during the multi-screen sessions

SIMULATION & COLLABORATION IN MULTI-USER 3D
Adobe Atmosphere: Michael Kaplan , Adobe, Inc. & Bruce Damer DigitalSpace http://www.adobe.com/products/atmosphere/
Bruce Damer of DigitalSpace and Michael Kaplan of Adobe will take turns touring attendees through the fantastic worlds of Adobe's new Atmosphere multi user 3D platform. Converse with other people from around the world dressed in their "avatars" and walking through digital landscapes. Michael Heim will join Bruce from Southern California to show his work with "quantum avatars," and discuss the feng shui of virtual space. Highlights from the 2001 Avatars Cyberconference, an all-online event that has been called "the Burning Man of bits" will be toured and its story told (see www.ccon.org).

JOURNEYING THROUGH HISTORY - THE JAMES BURKE KNOWLEDGE WEB PROJECT
Patrick McKercher http://www.k-web.org
The Knowlege Web is an international grassroots effort working with James Burke to realize his vision of making the sort of pinball trips through history he popularized in his Connections books and television series available on the WWW. Moreover, users will be able to create and share their own journeys, as well a contribute their own content. Not only will users be able to fly through time and space, but they will be able to enter immersive virtual reality spaces to interact with historical figures and objects with other peole all over the world in realtime.

PERCEPTUALIZATION & DISTRIBUTED MEDICAL INTELLIGENCE
Dave Warner MD PhD www.medibolt.com
Warner will demonstrate a new approach to multi-sensory experiences of information that allow faster and more comprehensive decision making over large medical and biological datasets.

MUSE - ELEVATING THE HUMAN-COMPUTER EXPERIENCE
Jonathan Lindo, Muse Communications www.musecorp.com
Muse is a next-generation visualization and networking software architecture. Software Architect, Jonathan Lindo will demonstrate a brand new comprehensive client/server technology that combines the sensory impact of television with the interactive and networking capabilities of the Internet. This broadband multi-user3D platform displays pictures, movies, music, live webpages and more in a 3D space to share with other users online.

spaceshipEARTH & EarthSCOPE
Joshua Arnow
www.spaceshipearth.org/
Buckminster Fuller coined the term Spaceship Earth almost 50 years ago to help us see our world as a magnificent life-sustaining system, requiring the cooperation of the entire crew - everyone on Earth - in order to thrive. Joshua Arnow, president of the Buckminster Fuller Institute, will present spaceshipEARTH®, a web based initiative currently in development. spaceshipEARTH will provide comprehensive design science education, networking tools and action resources that focus on the most urgent design challenge humans have ever faced - equitably meeting the needs of all humanity without undermining the ecological integrity of Earth's natural systems. The EARTHscope will be the main feature of the demonstration. EARTHscope is a brand new new tool designed to help people grasp the critical choices that will shape humanity's future, by displaying interactive and animated data about the state of the Earth and our possible futures.
8:00 - 8:10 pm
A Word from our Hosts at the Exploratorium
INTERNET2 IN 2002
Ron Hipschman www.exploratorium.edu
Doug Conaway, Director of Resource Development Exploratorium Center for Media and Communication
Ron Hipschman and Doug Conaway will say a few words about the Exploratorium's 2002 live webcast programming that includes the solar eclipse webcast of June 10. He will also announce the Exploratorium's plans for unveiling and implementing Internet2.
8:10 - 9:15 pm
Global Sustainability, Planetary Visualization & Information Ecologies
GEOMATRIX – GEOSPATIAL VISUALIZATION TOOLKIT
Paul Hansen, Chuck Stein Geofusion www.geofusion.com
Hansen will demonstrate the broad-ranging capabilities of GeoFusion, Inc.'s GeoMatrix digital earth software system, which allows virtually unlimited amounts of image, terrain, and other data to be organized and efficiently delivered to a computer graphics screen for interactive viewing. The software is architected as a development toolkit which any software team can use as a basis for special-purpose applications. The scope of operation is inherently global (spherical) and effectively manages and coordinates local areas of differing data types and resolutions. Ultimately, the GeoMatrix system is a way for distributed, geo-referenced (3D) data to be combined over the Internet.
MANYONE - UNIVERSAL DASHBOARD
Jim Fournier, Joe Firmage www.manyone.net
ManyOne is a new not-for-profit distributed portal architecture partnering with NGO's in support of the Earth Charter. A large client-side cache allows rich 3D graphics over 28.8, enabling a new navigation dashboard based on a scientifically rigorous iconic taxonomy. An open software pool may allow developers to offer extensible software components to the membership, and then receive revenue in proportion to how much each is used.

TELEPRESENCE COLLABORATORIES: A STATE-OF-THE-ART PARADIGM FOR SHARING RESOURCES FOR RESEARCH & EDUCATION
Nestor J. Zaluzec, Argonne National Laboratory http://tpm.amc.anl.gov/
Scientific User Facilities have traditionally been instrument-driven resources, in which are located state-of-the-art technologies used to characterize materials and their structure, ranging from macroscopic to atomic dimensions. While this has been a fruitful process, the next generation of research and educational centers will be science driven and will seek to meld a combination of multidisciplinary approaches to creating and exploring the exotic behavior of new classes of materials, chemical and biological processes, or to study the fundamental building blocks of nature. To accomplish this task, it will be necessary not only to put together the brick, mortar and instruments, which will house the tools for synthesis, fabrication, characterization, and modeling of such systems, but also to revolutionize the way researchers, educators and students interact and share their knowledge across multidisciplinary boundaries. One approach in achieving this end is the collaboratory concept. To accelerate the manner in which new technology is introduced into mainstream science, one must provide a mechanism by which technological advances are practically and rapidly put into use. The TelePresence Collaboratories established at ANL for Microscopy ( ANL TPM - http://tpm.amc.anl.gov) and Earthquake Engineering (NEESGrid- http://neestpm.mcs.anl.gov) are examples of these attempts.


INTERACTIVE SATELLITE GLOBE FROM WORLDFX!
Todd Ulrich
www.realworldfx.com or www.worldsat.ca
This 5' inflatable Earth replica manufactured by Cincinnati-based Worldfx, Inc. was assembled using a 1km/pixel satellite image provided by WorldSat International of Mississauga, Ontario. WorldSat International compiled hundreds of individual scenes from NOAA's polar-orbiting, Advanced Very High Resolution Radiometer (AVHRR) to complete this beautiful mosaic. The globe provides heretofore unknown perspectives on our planet and demonstrates the interconnected nature of all things. Earth's bio-regions and underwater topography are clearly depicted in this model which is a symbolic milestone in the history of humankind's steady progression towards viewing and understanding the Earth as a whole. (ongoing exhibit in the main entry hall)
9:15 – 10:00pm
"A Wish List For Digitopia" - Tele-Address by Howard Bloom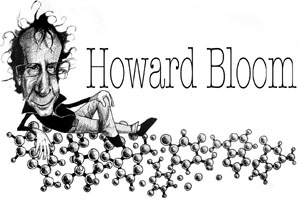 Howard Bloom is the acclaimed author of Global Brain: The Evolution of Mass Mind from the Big Bang to the 21st Century and The Lucifer Principle.
"Howard Bloom…may just be the new Stephen Hawking, only he's not interested in science alone; he's interested in the soul." Aaron Hicklin, Gear Magazine
"I have met God, and he lives in Brooklyn. …Howard Bloom is next in a lineage of seminal thinkers that includes Newton, Darwin, Einstein, Freud, and Buckminster Fuller…he is going to change the way we see ourselves and everything around us."
Richard Metzger, creative director, The Disinformation Company, host of Channel Four TV Britain's Disinfo Nation.
"Readers will be mesmerized by the mirror Bloom holds to the human condition, and dumbfounded by the fusillade of eclectic data that arrives with the swiftness and intensity of a furious tennis volley. His style is effortless, engaging, witty and brisk.... He draws on a dozen years of research into a jungle of scholarly fields...and meticulously supports every bit of information...." Washington Post

Bloom is a Visiting Scholar--New York University Founder: International Paleopsychology Project; member: New York Academy of Sciences, American Association for the Advancement of Science, American Psychological Society, Academy of Political Science, Human Behavior and Evolution Society, International Society of Human Ethology; founding board member: Epic of Evolution Society; advisory board member: Youthactivism.org; executive editor -- New Paradigm book series. www.howardbloom.net
10:00 - 10:15 pm
Into the Dream, Reawakening to QuantumVIZ 2
Jim Herriot PhD, www.herriot.com & www.biosgroup.com
Laptops are closed. Projectors are put away. But something is different now. Mere keyboards and screens have morphed into tableaus of human creativity. As we walk out into the night air, perhaps Buckminster Fuller's voice will call out to us: Time to map out new geodesics of our imaginations. Time to dream new Dreams. This is not a closing, but an opening -- an invitation to invent, to build, to take ever bolder quantum jumps in visualization, and to reawaken together soon to the bright screens of QuantumVIZ 2.

---
QuantumVIZ is dedicated to the spirit and vision
of the Leonardo da Vinci of the 20th century -
R. Buckminster Fuller

QuantumVIZ Event Organizers
John Graham
Bonnie DeVarco
Planning Committee
Bonnie DeVarco
John Graham
Bill Daul
Jim Herriot
Claudia Welss
Jim Fournier
Al Lundell
Sun McNamee
Bruce Damer
Bill Moulton
Steve Wolff
Mark Hager
Chris Lucey

Exploratorium Principals
Robert Semper
Larry Shaw
Doug Conaway
Ron Hipschman
Volunteers and Tech Support
Jake Bowman
Leslie Greenleaf
Amy Hoffman
Kevin Honeywell
Chris Lucey
Celestine Star
Chad Rooney
Glen Grillo
Rob Miller
David Robert
Diana R. Trimble

Reception, QVIZ Tech & Graphics Sponsors
Pat Flanagan, Flantech www.flantech.com
Joshua Arnow, spaceshipEARTH www.spaceshipearth.org
Bobby Jaber, Porcelainia - Virtual Metaphors of Geometric Proportion www.porcelainia.com
Studio Creatif (France Telecom) www.rd.francetelecom.fr/studio-creatif
MUSE Corporation www.musecorp.com
Virtual World Studio www.virtualworldstudio.com
Steve Young, The Forever Young Foundation. www.foreveryoung.org
PlaNetwork www.planetworkers.org
Contact Consortium www.ccon.org
Vlearn3D www.vlearn3d.org
Munday & Collins www.mundayandcollins.com
Sharp Electronics
Glen Grillo, Arcane Realities www.arcanerealities.com
Bonnie & Tony DeVarco
John Graham
Claudia Welss
Jim Herriot
Special Thanks to the Exploratorium, San Francisco
QuantumVIZ is a project of PlaNetwork, a California 501 (c)3

Contributing Organizations