Joe Info
who I am | how I got here | what I do for money | interests
My name is Joe Pate.

---
I was born in Fort Huachuca, AZ but didn't stay there long...
2) off to San Francisco, CA for surgery (born two months premature; skull bones growing together -- so I have a plastic plate keeping them apart, but apart from a slightly unusual hair part, it's not easy to tell.)
3) up to Eureka, CA (grew up, went to several schools, through 4th grade)
4) off to Pleasant Grove, UT to live with my grandparents for a year and a half -- through 6th grade
5) back to Eureka (start 7th grade)
6) down to Santa Clara, CA
7) back to Eureka (finish 7th grade)
8) down to Mountain View, CA (start 8th grade)
9) back to Eureka (through 9th grade)
10) down to Fresno, CA (through 11th grade)
11) back to Eureka (finish high school, start college at HSU -- 3 years)
12) down to Santa Cruz, CA (finish college at UCSC -- B.A. in mathematics; still here)
As you can see, I've moved around a lot, but that trend is slowing; I've been in Santa Cruz for about 8 years now.
---
Just after graduating from UC Santa Cruz, I started a temp job in the legal department at Seagate Technology. After almost four years, I figured it was time for a change so I took a Unix class at Cabrillo (local junior college) and fortuitously got a job as a CAD engineer with GEC Plessey Semiconductors. GPS' parent company GEC decided they wanted out of the semiconductor business and announced that GPS was for sale. After about 7 months, we were purchased by Mitel Semiconductors. A few months later I took another CAD job with Siemens Microelectronics (working for the same boss who originally hired me at GPS). Last April, SMI spun off from the parent corporation Siemens and became Infineon Technologies Corporation. Infineon is still owned by Siemens at this point but plans to go public in early 2000. Basically I support a group of chip designers and keep them working, which entails many different tasks. I get to work in Santa Cruz (about a 30 minute walk from my apartment) at a job I enjoy. Life is good.
---
Some other interests include:
1) Soccer. I play soccer about 3 times a week. I also watch a lot of soccer; I'm a San Jose Clash season ticket holder so I see some of the games live. The rest is on TV: FIFA events (World Cup, Women's World Cup, Copa America, etc.), English Premier League, Bundesliga, Italian League, and whatever else they'll show me. I'm very proud of the US Women's team, who as you probably know squeaked by China in penalty kicks to win the 1999 World Cup. I'm hoping that this will help boost soccer's popularity in the US, both for men and women; in my opinion it's a higher-quality sport than our pastimes football and baseball -- it requires more teamwork and more athleticism (almost no padding, no time outs). Of course the advertisers don't see it that way... few million-dollar commercial opportunities there. I can hope.
2) Music. I have a fairly large CD collection (~400) which ranges across several different styles. Lately I've been buying mostly electronic music (techno, trance, industrial, whatever you want to call it). Watch this space; I plan to put together a database of my collection. I also enjoy playing on the keyboard. I don't have much musical skill, but I try not to let that stop me. I recently purchased a Yamaha EX-7 but I haven't had much chance to use it yet. Once I come up with some stuff that's suitable for other ears I'll look into posting it here. Here's a picture of me and my poor neglected keyboard.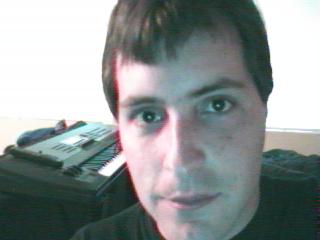 3) Reading. I've noticed over the past few years an increasing trend of distraction and decreasing attention span. Therefore I have taken up reading again. I've never really stopped; it's just a time allocation issue. I recommend the following authors:
Spider Robinson
Stephen R. Donaldson
Harry Harrison
Raymond Feist
Janny Wurts
Katherine Kerr
These are fantasy & scifi works, which is all I make time for at the moment. I've also enjoyed Donald Barthelme's short stories, almost anything by Robert Anton Wilson, and George Carlin's Brain Droppings.

4) Games. I enjoy most card and board games, such as, bridge, poker, hearts, cribbage, canasta, Magic: The Gathering, Scrabble, Sorry! (yes, Sorry), Monopoly (in moderation), Cosmic Encounter, charades, and an interesting game called Castle of Magic. I feel that games are a nice way for people to get together and interact without the burden of constantly having to come up with new topics of conversation.

Well, now you know. Wanna know more?

Ask me.