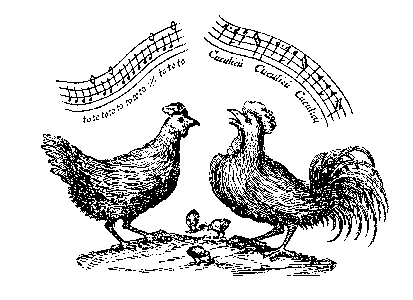 500 Years of Chicken Music!
1978, Laurel Community Center, Santa Cruz, CA

A part of the 5th annual Santa Cruz Festival of Living Music, this truly historic concert presented works celebrating the sounds of hens and roosters from Medieval, Renaissance and Baroque periods. The concert presented translations of chicken sounds into brass, reed, string and choral part-music, including light works by such composers as J.S. Bach, Mameu, Praetorius, di Lasso, de Vitry and Josquin des Pres.
Selections included:

Wann uns die Henn' (1585), Baldassare Donato, c. 1530-1603


Text Translation:"When the hen brings us an egg it begins to sing and the house is full of 'coc, coc, coc, da.' That is how the hen sings when it brings us an egg."
Donato was an Italian composer, organist, and maestro di cappella at St. Mark's cathedral in Venice.

Cock-a-Doodle-Doo (1607), Robert Jones (c. 1570 - )


Jones was an English lutenist and gifted composer of chicken music about whom little else in known. All but one of his madrigals for 4 and 5 voices which have survived are about birds.

Sonata D-Major [BWV 963] (c. 1704), J.S. Bach (1685 - 1750)


This cheerful keyboard work from Bach's youth carries its informality and nonchalance through several changes of mood. The witty final movement has as a heading: "Thema all' Imitatio Gallina Cucca," i.e. "Theme imitating hen and cuckoo."


Chichilichi? Cucurucu! (1555), Giovan Domenico da Nola


Apart from his birthplace (Nola), little is known of the skillful composer da Nola. Chichilichi (cock-a-doodle-doo in Italian!) is a "moresca," a madrigal style which parodied the songs of Africans (Moors) who lived primarily in Naples and Venice. The text, a nocturnal dialogue between between two African women, includes gibberish slang and various obscenities. Unfortunately, no translation of the text is available.



Die Henne (1786), Christian Friedvich Daniel Schubart (1739 - 1791)


Text Translation:
"There once was a hen who busily laid eggs
And she used to scream terribly after she laid an egg, as if the house were on fire.
An old rooster had some thought about it and got angry
He went over to the hen and said to her:
(recitative)'The screaming, neighbor hen, is not necessary because it does not do anything for the egg. Just lay the egg and that's enough. Listen! You don't realize what it does to my head.
'Hm!" said the neighbor hen, and stamped her foot down.
'You must know what the fashion is today,
You monster, you monster, you nasty monster, ugh!
First I lay my eggs, then I am criticized!'"
According to Grove's Dictionary of Music, "Schubart's compositions are few and unimportant." His life is well documented by an autobiography (1792) written while in prison. Surely "Die Henne" must be included among Schubart's typical compositions -- the Funks were pleased to revive this rare example of Schubart's Werke.

Chichilichi? Cucurucu! (1560), Orlando di Lasso (1532 - 1594)


The chicken music composed by da Nola was developed further by Lasso into this six-part madrigal. Lasso was one the most skilled and versatile composers of the Renaissance. As a young choir boy in Belgium, Lasso had a voice so lovely that he was kidnapped three times. The last time he was taken to Italy where his reputation as a musician and composer flourished. This is his only known attempt at the chicken genre.



Due to the truly historic and monumental importance of this concert, a complete play list is provided for you. In addition to those pieces detailed above, the following, equally fascinating compositions were performed:

Ballet des coqs (1615), Michael Praetorius (1571 - 1621)
Il est bel et bon (1534), Passereau (fl. 1533 - 1547)
Garrit gallus/In nova fert (c. 1316), Philippe de Vitry (1291 - 1361)
Canto lo Gallo, Anonymous Italian (14th century)
A Little White Hen (Ein Henlein Weiss, 1570), Antonio Scandello (1517 - 1580)
Canzone "La Gallina" (1637), Tarquino Merula (fl. c. 1615-1652)
Canzon uber dass Henner und Hannergeschrey, Alessandro Poglietti (b. ?, d. 1683)
Quasi sempre avanti (1503), Anonymous
La Poule (1724), Jean-Philippe Rameau (1683 - 1764)
Le coq est mort, French Traditional