PETER & DONNA THOMAS


260 Fifteenth Avenue Santa Cruz CA 95062 (831) 475-1455
The Renaissance Faire Broadside Series (2011) Peter and Donna Thomas. 20 by18 inches. In the 1970s and 80s we worked at the Renaissance Pleasure Faire, an event that recreated an English Elizabethian country market fair. Dressed like Robin Hood and Maid Marion, we taught papermaking and bookbinding from ramshackle booths we built out of recycled lumber and swathed in burlap. As we reenacted the roles of papermaker and printer we made and sold blank books and illustrated broadsides. We would print the broadsides in batches of 10-20 at a time, reprinting them when they were nearly sold out. We stopped participating in the Faire in the early 1990s and tucked the left over broadsides away in a trunk.

Ten of those broadsides have now been collected together in this portfolio. They are accompanied by a broadside we printed this year that acts as a " title page." In addition to the broadsides we have also included a 22 page color photographic history of the Faire. We designed and had this printed in 1987 to celebrate the Faires twentieth birthday, and had set aside 10 copies in the trunk. The broadsides and photo book are housed in a unique "pivoting page" box binding we designed especially for the project. This clamshell box-like structure is made from reclaimed old redwood like we used to build our faire booths. The truly unique features of the binding are the translucent vellum-like paper "pocket pages" that are pinned with wooden dowels into a slotted pivoting page holder, and the use of magnets to hold the broadsides in place. 12 pages. 10 copies of which 8 are for sale. $875.
A three of the broadsides and the title page broadside are pictured below. If you would like to see images of all the broadsides please email us.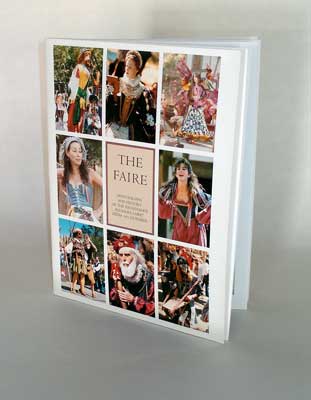 ---