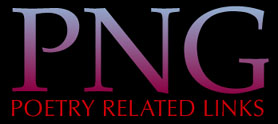 UPDATED ON MAY 22, 1996
Poetry is what Milton saw when he went blind.
--Don Marquis
INDIVIDUAL POETS
Dan Akers
Shawn T. Amundson
Argus
Evan Benoit
Janet Bernichon
Anthony Boyd
Cactus Bob
Sylvia Chong
Jennifer Crystal Fang-Chien
Mike Dayoub
Tammy Douglas
Debbi Elkind
Barnaby Fell
Allen Ginsberg
Alan Harris
Seamus Heaney
LeeAnn Heringer
Kelly June Hutcheson
Brian Lee
Michael McNeilley
Sean McSherry
Czeslaw Milosz
A.C. Missias
David Newkirk
Joy Owen
Sylvia Plath
Rubber's Poems Page
Deborah Sellers
Anne Sexton
Christy Sheffield Sanford
Bill Shields
Shiv's Poetry Page
Soos Pomes
Karen Tellefsen

ONLINE ZINES AND PUBLICATIONS
Angry Universal's Poetry
Apokalyptikon: Poems for the New Millennium
Ars Poetica
Barefoot Poetry Press
Blood Alley
Blue Penny Quarterly
children churches & daddies
Crossconnect
DADA (Italian & English)
Deep Breath: An On-Line Poetry Journal
Edgewise Cafe and Electrolit Cafe
Enterzone
e-poem
Ethereal Dances
Eventual
Green Bison Quarterly
Malcolm Hume's voodoo magic
Interbang
In Vivo
Lingo
Literary Kicks
The Little Magazine
The Minetta Review
Mudlark
The New Voice
The Next Savage State
Oyster Boy Review
Poems from the Basement
Poets Corner
Poet's Park
Recursive Angel
RIF/T: An Electronic Space for Poetry, Prose, and Poetics
Silent Treatment E-Zine
So it goes
Spilled Ink
Spitting Image
Sun &amp Moon Press
Switched-on Gutenberg
Teardrop Bottle Society
Think Online
Tome of the Literati
The United States of Poetry
Whisper - Scream
Zero City
Zmagazine (in Dutch and English)

MISCELLANEOUS
The Alcove
Articulata
The Aesthete's List
Austin Poetry Scene
Avec Literary Sampler
Beerware Poetry
Charles Bernstein
Best-quality Audio Web Poems
Birdland
Hugo Boss Word Slam Gallery
Bra beat på Bukowski (in German)
Bukowski: An Appreciation
Charles Bukowski & more (in German & English)
Buk's Page
Excerpts from Charles Bukowski: An Annotated Bibliography of Poems
Charles Bukowski: Shakespeare Never Did This
Butterfly Wings
Don Cheney's Home Page and Clean Neck Shop
Cruzio Poetry
CyberPagesPoems
Robert Daeley's Buk Page
Dead Men Sitting At Typewriters Press
It's Garyrr Stuff
Heat Wave: the Art of Ken Price and the Poetry of Charles Bukowski
Ho Néos Lógos
Michael McMullough's Hank Pages
The National Library of Poetry
Kenneth Patchen Home Page
Poems, Pics and Prose
The Poet's Attic
Poets In Person
Poet's World
Some poems that are Cool
Visual Poetry

Inclusion of the above links does not constitute an endorsement of any particular web, gopher, or FTP site by PNG. They are provided on a non-judgmental basis. If you have a poetry related site and you wish to see it on this links page, send the URL to PNG via email.
POEMS | CREDITS | SUBMISSIONS | GUEST BOOK | EMAIL | NIMMO