B. Sins of Non-consummated Expectoration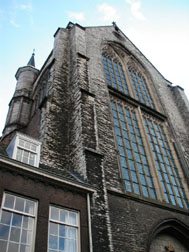 To be held sinful but venial are non-consummated acts of salivary incontinence which provoke a hypersecretion of the salivary glands by means of gluttonous thoughts without terminating in effective evacuation of the liquid.
B1. Gluttonous Delight.

When not artificially provoked but entertained with pleasure, gluttonous thoughts habitually constitute sins of delectio morosa.

B2. Salivous Provocation.

Prudent precautions must be taken against the manifold salivous provocations present in modern life through the proliferation of literary, photographic and televised depictions of salacious foodstuffs and gastronomic excitement, constituing proximate occasions of salivary sin.

B3. Culinary Danger.

The faithful Christian wife or chef constrained to be culinary in pursuit of a higher end may licitly guard in her possession unillustrated cookbooks and recipes written in the language of the Church. On the Principle of Double Effect she will refer as necessary to this literature for the salutary preparation of food without desire for salivary stimulation. In cases of doubt a prudent confessor will be consulted.