Treats, Temptations, and Tidbits for Your Favorite Dog
Disclaimer: Most of these recipes have not been tested on Misty.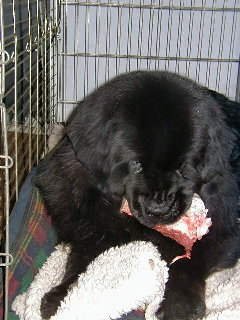 Liver Brownies--Misty's Favorites!
2 pound of chicken livers--liquified in food processor
2 cup cornmeal
2 cup wheatgerm
1/2 cup dried parsley
4 eggs
2 tablespoons. granulated garlic
Combine all ingredients--will be a stiff, pasty mixture--and spread on parchment covered half-sheet cake pan or cookie sheet.
Bake at 350 F for 35 minutes. Cut into bars when cool and store in refrigerator or freezer.
Cheesy Carrot Muffins
1 cup flour
1 cup whole wheat flour
1 tablespoon baking powder
1 cup grated cheddar cheese
1 cup grated carrot
2 large eggs
1 cup milk
1/4 cup vegetable oil
Preheat oven to 350 F. Grease or line a muffin tin.
Combine the flours and baking powder, mix well. Add carrots and cheese, using fingers to mix into flour.
Beat eggs in another bowl, then whisk in the milk and oil. Pour over the flour mixture and stir until well combined.
Fill muffin cups 3/4 full. Bake 20-25 minutes or until muffins feel springy.
Be sure to cool before giving to the dogs. Store in refrigerator.
Contributed by Linda C. Parker
Gingerbread Men for Dogs
1/2 cup molasses
2 tablespoons honey
1/2 cup water
1/4 cup vegetable oil
3 cups flour
1 teaspoon baking soda
1/2 teaspoon cinnamon
1/2 teaspoon ground cloves
2 teaspoons ground ginger
1/2 teaspoon salt

Mix the molasses, honey, water, and oil. In another bowl mix together all the dry ingredients. Stir flour mixture into molasses mixture, until well blended. Refrigerate dough for at least half an hour.

Preheat oven to 350 F. Grease a baking sheet or use parchment paper to line it.
Roll out dough on lightly floured surface to 1/4 inch in thickness. Cut into gingerbread men. Decorate with raisins for eyes and mouth, etc, if desired. Bake 10-15 minutes, until firm and lightly browned.
Depending upon the size of the cookie cutter, this recipe may make a dozen cookies.
Warn husband and children: These are for the dogs!

1
Oatmeal Cookies for Dogs
1 egg
1 tablespoon honey
1 tablespoon soysauce
1 tablespoon flour
1 tablespoon olive or vegetable oil
Mix the ingredients listed above.
Add 2 cups oatmeal (old fashioned) and 1/4 cup beef stock.
Stir and then let sit for about 1/2 hour in the refrigerator.
Drop by spoonful onto a greased cookie sheet about two inches apart, and bake for 30-35 minutes in preheated 350 F oven.
(This recipe was shared on a program on the Animal Planet channel recently. . I copied most of it correctly, however, I guessed at the amount of beef stock called for because the man used a ladle to pour it into the oatmeal mixture. I'm also not absolutely sure about the temperature and time; It's an educated guess on that too. ).