The Carmens by Virgil Hervey
- They once stopped a flame war on the internet Newsgroup
rec.arts.poems to agree that those Carmens "are excellently funny."
"I carried home a box load of zines [from the UPC]... especially
liked Virgil Hervey's The Carmens." (Chip Rowe, editor of Chip's
Closet Cleaner (as reported in FACTSHEET 5). Featured in the
special "Poetry and Mass Culture" edition of the Chicago
Review (Summer, 1994). 17 short poems on 8 pages - $1.00


street writ by Virgil Hervey
- The theme is provided by the characters that populate the life
of the New York City criminal lawyer, with an anti-capital
punishment moral. Put together in the form of a Writ of Habeas
Corpus, "The contents fit the package.", Joe Speer, editor,
The Beatlicks and Speer Presents). "... it'll go in the box in
my bedroom closet where I keep the keepers.", Robert W.
Howington, editor, DEAD MEN SITTING AT
TYPEWRITERS PRESS. 19 poems on 10 pages - $2.00


Part of the Scenery by Janet Bernichon
- The first chapbook by this much published Registered Nurse
from Long Island will leave you clutching at your breathing tube.
"Too bad / if there was a plug / to pull / I'd pull it." Laser
printed with computer scanned photographs. C Ra McGuirt -
"Janet Bernichon is a damn good poet. She has the emotional
foundation, and plenty of compassion, but sufficient detachment
and a very fine line." 17 poems on 20 pages - $3.00


Bad Roads by Virgil Hervey
- This loser in the Slipstream chapbook contest touches
on some of the women who have touched on Uncle
Virgo's measly life. These poems have been the core of
his recent readings. Includes such old favorites as
"toothbrush" and "Picking Up". 20 poems on 20 pages - $2.00


Grift by Michael McNeilley
- Just out. McNeilley's whimsical style has caused much
wonder around the poetry venues of the internet and the
underground press. Laser printed - two color cover.
Artwork by Brooks McNeilley. 20 poems on 25 pages - $4.00


It's a Man's World by Janet Bernichon
New poems and illustrations from Janet B's widely published
virtual life. Laser printed - full color cover.
Photos and graphics, 18 poems on 28 pages - $2.00



The Downtown Diner by Errol Miller
32 pages, $4. Reviewed by David Madgalene,
106 Coal Creek Dr., Superior, CO 80027.
A couple of years ago, I was introduced to the work of Errol
Miller, when he submitted to a small zine I was then editing. I
was having a rough time scratching up submissions and Errol's
poems were manna from Monroe, Louisiana. But my feelings went
way beyond those of an editor grateful for a coup. Errol's poems
were the right poems at the right time for me personally. No
doubt Errol has published his share. In fact, Errol has had so
many, literally thousands of poems published over the past
several decades, that the numbers have become an embarrassment.
Were all of these the right poems at the right time? Well, who's
to say? But now Errol's got a new chapbook full of the "right"
poems, entitled "The Downtown Diner". And, yes, I do say that
these are the right poems for you right now, because these poems
are about me. And if they're about me, then they've gotta be
about you and the rest of us. Errol's got a Southern thing goin'
on, but as all bonafide good writers of South, Errol gives us the
South and the rest of the world, too. Certainly the rest of
America. Recently, I moved cross country and it gave me a chance
to hang out in a lot of downtown diners along the way. And I'm
glad I did, if for no other reason than that the experience
underscores the truth what Errol has wrought in these astonishing
poems. Because no matter where you go, I say you're gonna end up
here, breaking bread with Errol Miller in The Downtown Diner.
The poems are given all due respect with a beautiful presentation
by Virgil Hervey of God's Bar Press. Buy it and read, man. This
is down-home soul food. You can't live by bread alone.

---

God's Bar: un*plugged
An occasionally-published zine that grew out of a poetry special
interest group on Prodigy, of all things. Widely acclaimed in the small
press. Publishes free broadsides as a regular supplement.
$2 an issue, or $7 a year. Write Virgil Hervey, P.O. Box 1456,
New York, NY 10013-0868, or contact virgo@panix.com.

---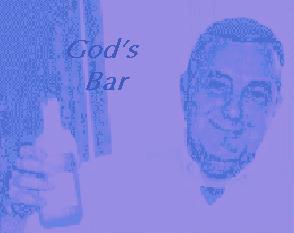 Prices include postage and handling.
Make checks payable to
Virgil Hervey
P.O. Box 1456
New York, NY 10013-0868