Ken's Poetry Page:
Books, Poetry Online
*Ken Weisner*
(updated 9/14/12)

"The Gardener" on The Writer's Almanac, August 6, 2010


2010 Book from Hummingbird Press
Anything on Earth (at Hummingbird Press)
Anything on Earth (at Amazon)
four poems from Anything on Earth
"Ghazal"
"Thanksgiving"
"Dear Maude,"
"A Proclamation Concerning a Bowl of Apples"


phren-Z
April 2012
"Six Meditations for George W. Bush"
"Listening to Ives"
"Responsible Backpacking"



DMQ Review
Spring, 2012
"Infinite Loop"

Porter Gulch Review
"Echo Space" (2008)
"The Beauty of Work as a Boy: (2009)p. 9
"Dear Maude," (2009) p. 106
"Ranch Work (2010) p. 89
"First Poetry Teacher" (2011) p. 128
The Language of Touch (2012) (p. 41)


Chicago Quarterly Review
Volume 14, 2012
"Emigrant"


April 2008, Good Times
"Writing Retreat"
"Flesh Music"
"Creation"
"Ghazal of Forgiveness"

---
Ken's 2002 Book from Hummingbird
Here are four poems from the book posted on the

Hummingbird Press website

Amazon.com: The Sacred Geometry of Pedestrians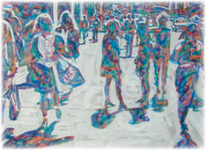 Image Copyright Mario M. Muller, Petit-Four # 2
Copyright 2002 Ken Weisner
---
---
Ken's poems online, 2001-2007

The Bathyspheric Review (Spring, 2007)
"Get Well Card"

The Bathyspheric Review (Fall, 2004): Two Poems
"The Ocean as a Symbol of Compassion"
"Kelp, Leaf and Bulb"

Poets Against the War (2002): Two Poems
"Rumsfeld"
"After Gertrude Stein"

---
---
Poetry in Performance

A Multimedia Performance of "After Gertrude Stein"
"Peace Out": Saint Louis's Uppity Theater
(Click on "2004")
Saint Louis Center for Creative Arts, October 16, 2004
Featured Poem: "After Gertrude Stein"


Choreographry, Robert Battle; Soundscape direction, Joan Lipkin; Soundscape performers,

Zaire Imani, Ed Reggi, Paul Stewart, Stephanie Williams; Costumes, Nina Reed; Dancers:

COCAdance; Music: Bronx Sound Machine.



***
"Lost and Found: The Literature of Fathers and Sons"


The Willing Suspension Armchair Theater


directed by John Chandler &Wilma Marcus Chandler


"I Am No Sufi" and "The Builder"


May 5 & 6, 2009
---
Regional Links, Publications

Poetry Santa Cruz
Santa Cruz Authors Page
Sample Poem "The Hats My Father Wore"

---
Red Wheelbarrow and Other Editing & Writing, Reviews

Red Wheelbarrow
RED WHEELBARROW MAIN PAGE

Red Wheelbarrow 2004: "newpages.com" Review
mentioning student interview with Adrienne Rich
(scroll down to the Red Wheelbarrow Review)

Interview with Morton Marcus, 2002 (as published in Red Wheelbarrow)

American Book Review Online: Review of Marilyn Chin's The Phoenix Gone, The Terrace Empty

---
Feb. 20, 2011
Susan Freeman talks to Ken Weisner, editor of the De Anza College poetry journal Red Wheelbarrow.
Contributors Robert Pesich and Stephen Kessler read poems from the journal.

August 22, 2010
Guest Ken Weisner joins Dennis Morton

Dec. 27, 2009
Ken Weisner and David Sullivan join Dennis Morton

Dec. 20, 2009
Poems from the Red Wheelbarrow
De Anza's literary Journal

---
---