III. SALIVARY INCONTINENCE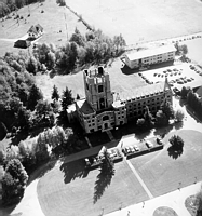 Salivary incontinence is of two types, sinful and non-consummated sinful.
A. Sins of Expectoration.
Offenses against salivary continence are condemned under the act of expectoration (vulg. "to spit"). This act is known to consist in evacuating upon the ground, or into a receptacle designed with malice to that end, the salivary liquid accumulated in the mouth, by means of deliberate stimulation of the labial and lingual musculature.
A1. Natural Law.

As the expectorant act represents a willful deviation from the natural retention of saliva and an artificial diversion of its digestive ends, it constitutes an offense against Natural Law and on that account is gravely sinful.

A2. Ecclesiastical Law.

Expectoration represents in addition a malicious offense against the Church. Ecclesial prohibitions have been formulated since ancient times, admonishing the faithful to abstain from this pagan act. In the Roman rite the commandment is prominently displayed on the walls of all Italian churches in its traditional formulation: Si prega di non sputare sul pavimento.

A3. Abdominal Right.

Certain theologians have also held expectoration to be an abominable offense contra justitiam, from the fact that evacuation of saliva constitutes a violation of the stomach's right to receive from the mouth (dibitum digestiva) the collaboration necessary before God for the maintenance and continuation of corporal nutrition.