PETER & DONNA THOMAS


260 Fifteenth Avenue Santa Cruz CA 95062 (831) 475-1455


patterned@cruzio.com

Where the Crossing Happens. (2008) 13 broadsides of poets at Naropa University. 6.75 tall by 5.25 wide . 15 broadside pages. 38 copies. $245.
Where the Crossing Happens. Compiled and edited by Peter and Donna Thomas. A portfolio of 13 broadsides with words or poems from poets in residence at the fourth session of Naropa University's Summer Writers Workshop in 2008, printed by Peter and Donna Thomas and their students at the University's Press during the Thomas's class "The Word Made Flesh (well actually paper)".
The dowel spine portfolio binding (developed by the Thomases and described in their book "More Making Books by Hand") is decorated with a unique acrylic print (made indirectly from metal type) measures 6.75 tall by 5.25 wide. The binding has two pockets holding 15 letterpress printed "broadsides" (13 signed by poets, one title page, one colophon signed by all printers). 32 letterpress printed in different type faces on a differently colored sheets of Canson Mi Tientes Paper. Six copies on Peter Thomas's handmade paper.
There are 38 copies in the edition $245
Poets included in collection:
Sawako Nakayasu
Ilya Kaminsky
Rikki Ducornet
Forrest Gander
Anna Moschovakis
Bob Holman
Anne Tardos
Dodie Belllamy
Steven Taylor
Brian Evenson
Kevin Killian
Raymond Federman
Pierre Joris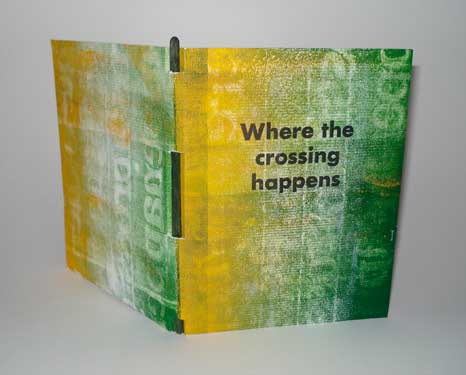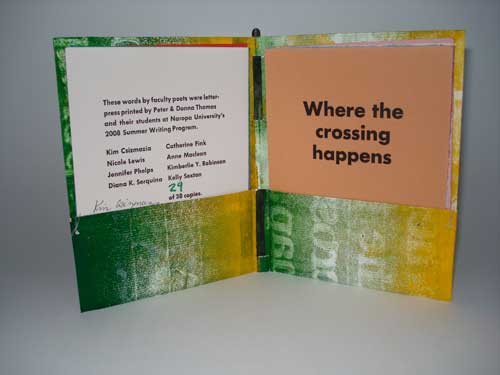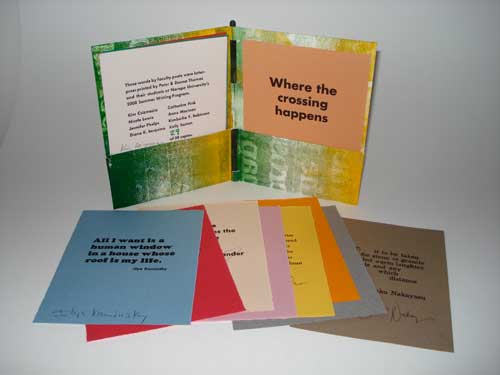 ---