The 319th Bombardment Group first fought in World War II in Europe, North Africa and the Mediterranean as part of the 12th US Army Air Force.

Led by Col. (later Gen.) Randy Holzapple, the 319th became the first complete AAF unit to transfer from European to the Pacific theater. Along the way it was re-assigned to the 7th US Army Air Force and re-equipped with the new Douglas A-26 Invader, a twin engine attack/bomber.

After the war, the 319th became part of Strategic Air Command, flying B-52H and B-1b bombers from Grand Forks, ND, now home to the 319th Air Refueling Wing.
Funeral Announcement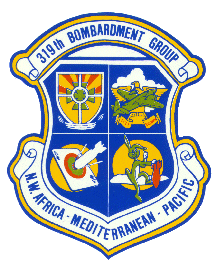 Click on the 319th emblem to Enter

19311
Hits since 7/27/02

The goal of the 319th Pacific Project is to preserve the living history and documents of the WW II Pacific campaign of this famous unit.

This is the place to find multi-media CD-ROMs containing the stories and photos of the men in the 319th. These will interest veterans and their families, historians, and anyone interested in the history of air power or what it was like to serve in the Pacific in WW II.

The Pacific Project is entirely produced by 319th veterans and volunteers, and is dedicated to the men and women of the USAF and veterans of all services.