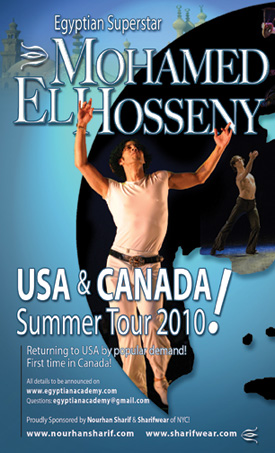 Mediterraneo Productions brings world-class performing artists from the Mediterranean regions of North Africa, Europe, Turkey and the Middle East to perform and teach in the greater San Francisco Bay Area.
Since 2007, we have had the honor of producing local events for world-renowned, legendary performing artists and next-generation masters, including choreographers/dancers such as Yousry Sharif, Mohamed el Hosseny , and Nourhan Sharif; as well as esteemed musicians, composers, and ensembles, including Elias Lammam, Karim Nagi, and The Georges Lammam Ensemble.
Mediterraneo events are held in venues from Santa Cruz to San Francisco, and feature music and dance from the fascinating and diverse lands surrounding the Mediterranean and beyond. Our interests range from flamenco to Transylvanian tanchaz, as well as music and dance traditions from areas ranging from the Atlas mountains to Anatolia and Suez to Zalaegerszeg, everything in between and more.
Our events to date have primarily featured Egyptian dance and music in folkloric and Oriental styles, as well as the classical, popular and folk music of Lebanon, Egypt, and North Africa, however we celebrate all of the intertwined cultures and artistic genres found all around the Mediterranean. We work with respected artists from any part of this vast area and of any culture. "Music has no borders."
Dance and music: food for the body, the mind, and the soul!
Our educational workshops and classes provide a valuable and rare opportunity for beginners through advanced students and professionals to study with master artists who don't reside in California, thereby saving students the cost of overseas or out-of-state travel. Workshops often conclude with a collaborative show, providing participants of various skill levels with an extremely rare opportunity to perform with these visiting masters.
Feed yourself! Be a part of our next event!
Shows and concerts are enjoyed by the general public as well as students and fans of the featured genre. All shows are family-friendly, educational, and fun for all ages. Ticket and workshop prices are kept as affordable as possible to encourage broad participation, despite the very high costs of event production. Please browse our pages for details about upcoming and previous events, our partners and volunteers, tips for visitors to the Santa Cruz/SF area, and more. Please contact us with suggestions, requests, and feedback on any of our upcoming or prior events. We look forward to dancing with you soon.
Zsuzsi, M.P. Owner/Director
Languages:
We speak Spanish, English, and Hungarian. If you require translation in other languages (Arabic, Russian, etc.) we have contacts who can translate for you. Hablamos espanol. Beszelunk magyarul.
Site Header Photos © Phil Pasquini. All rights reserved worldwide.  www.philpasquini.com