THIS WILL BE OUR ONLY EVENT IN 2010 so we can make it extra special for all of you: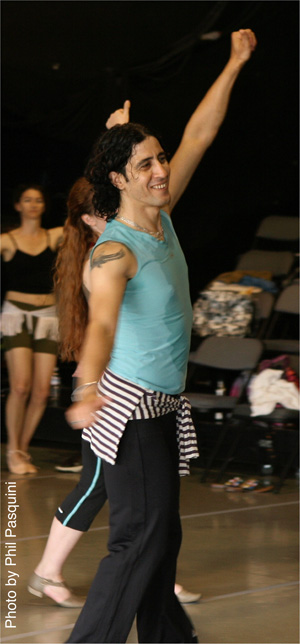 We are thrilled to bring you an encore workshop and show with this highly esteemed and accomplished master artist:
Egyptian Choreographer & Dancer Mohamed El Hosseny
Originally of Suez, Egypt and currently Director of El Hosseny Dance Company in Helsinki, Finland
www.elhossenydance.com
www.facebook.com/hosseny.finland
Summer 2010 US Tour sponsored by Nourhan Sharif
"I just returned from Mohamed el Hosseny's weekend workshop in San Francisco. Seen through the eyes of a contemporary theatrical dancer, we covered Simsimmiya, Beledi, and saucy Awalem styles. His workshop was like none that I've experienced before. He is a passionate, top-knotch performer, where dance and music beats through his every breath, and honestly he is the most precise technician I have ever seen. Zsuzsi as always was a wonderful host, and she and her colleagues organized the dance space and 2 fantastic shows held at the most perfect, charming venues. The entire weekend event is one I will never forget. Days later, I am still high on dancing. Thank you soooo much for bringing el Hosseny to California!"
Enheduanna of Orange County, CA
Read press reviews of Mohamed El Hosseny's 2009 US Tour:
www.washington-report.org/
Mediterraneo Productions is very honored to sponsor the only West Coast workshop of Mohamed El Hosseny's 2010 tour!
Mohamed El Hosseny
SF Bay Area
Weekend Intensive Dance Workshop
July 17-18, 2010
and Gala Show: July 17, 2010
At Zohar Dance Studio in Palo Alto:
4000 Middlefield Road, #L4, Palo Alto
www.zohardancecompany.org
This workshop will feature El Hosseny's native folk dance "Simsimiyya" from his home town of Suez, with his unique innovations for female as well as male dancers, plus his cutting-edge choreographies in Oriental, Awalem, and modern fusion styles. Please contact us for further details and/or specific content requests and questions.
Plus: Friday evening technique class on July 16, 2010
A special preparatory technique class for beginning through advanced dancers, to get you ready for the choreography workshop:
at Halanda Studio in San Jose. HIGHLY RECOMMENDED for all workshop participants, or as a stand-alone class if you can't make it to the workshop.

Event Registration:
(See our Previous Events page for photos and comments on Mohamed El Hosseny's US debut last year in San Francisco.) Download registration 2010 form here.
Thanks to everyone who has registered already! We look forward to dancing with you this weekend! Please arrive at classes 15 minutes before class begins to sign in.
Limited space is still available in Saturday and Sunday Classes and a limited number of tickets are available to the Saturday show.
* If you use the Paypal buttons below to register or purchase tickets on or after July 14th, please print your Paypal receipt and bring it with you to the event. Thank you!

* If the Paypal site redirects back to MediterraneoSF.com, that means that particular item is sold out. If that occurs please call 831-227-9514 to check availability. We may be able to register you/sell you tickets you at the door.
Friday Evening Technique Class at Halanda in San Jose: $60 ***Sold Out***
Tickets to Saturday Evening Gala Show at Zohar: $20 Adults; $15 Seniors & Students w/ID; $10 Children 12 & under
(Advance tickets purchased through this paypal site will be held at will-call at box office or can be picked up at the workshops. Paper tickets will be available soon at Brown Paper Tickets)
Performance opportunities: There will be a limited number of performance opportunities in the show. Details will be provided in registration form.
To get all the breaking news and latest event details, please subscribe to our blog
Or RSVP to this event on Facebook for updates, photos, video links and details:
www.facebook.com/event.php?eid=381425160170
Site Header Photos © Phil Pasquini. All rights reserved worldwide.  www.philpasquini.com