Writing & Videography
Books/Guides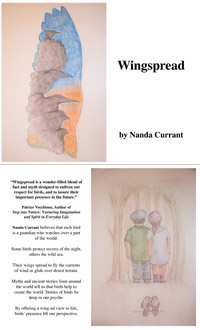 Wingspread
"Wingspread is a wonder-filled blend of fact and myth designed to enliven our respect for birds, and to insure their important presence in the future."
— Patrice Vecchione, Author of Step into Nature: Nurturing Imagination and Spirit in Everyday Life
Nanda Currant believes that each bird is a guardian who watches over a part of the world. Some birds protect secrets of the night, others the wild sea or some birds may foretell an impending storm. Their wings spread to fly the currents of wind or glide over desert terrain.
Myths and ancient stories from around the world have told us that birds help to create the world. Stories of birds lie deep in our psyche.
By offering a wing-ed view to life, birds' presence lift our perspective.
Illustrated by Nanda.
To inquire about Wingspread, email Nanda at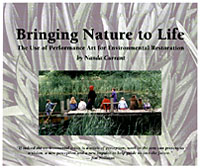 Bringing Nature to Life:
The Use of Performance Art for Environmental Restoration
Bringing Nature to Life is a compilation of stories, exercises, poems and art ideas for creating a performance piece to help the natural world. The guide introduces several projects and a section on young women coming of age. There are many photos, drawings and pastels to help illustrate some of the themes we worked on for the performances. It is useful for teachers and parents and young people wanting to work in the arts in service of the wild.
To purchase this guide or for more information, email Nanda at
RiverWorks: Performance and Community Art for Rivers
Riverworks is the outcome of a wonderful community arts endeavor. The performances presented in this Guide supported the Annual Gila River Festival, an on-going effort to help the last wild, and free flowing river in New Mexico. Environmental stewardship is an essential part of our work, and science is brought to life through performance art as an experience and not simply as information filed away as a report.
The guide is divided up into four performances: 1) River Voices, River Bodies; 2) Along the Banks; 3) Sensing the River: Animal Presence; and 4) Flood and Creation. This quartet explores culture and voices from the river, life and history found along the banks of the river, our relationship to the animal presence at the river, and the replenishment possible in the flood of creation.
Please read this personal note from Nanda about the Guides.
To purchase this guide or for more information, email Nanda at
---
Videography
The documentary work in these various projects are focused on inspirational themes about artists, friendship and cancer, homeschooling, a wolf dog, and urban farming. The DVD's deepen our understanding of these topics. As an artist I work on projects that I feel offer us new vision, and possibility for the future.
Links to films that are online are listed below. DVDs are available and showings can be arranged along with a guest speaker. Please contact Nanda at for further information.
Wolf Commercials
The concept for these videos segments in one film is to offer "A Wolf Commercial" for the viewer. I have edited together material from various sources for education and to encourage others to help wolves thrive in their state and elsewhere. Their future is tied into our own future.
The Four Perceptions of Wolves
A short video about The Four Perceptions of Wolves. The idea is to create a Wolf Support Commercial for the viewer.
This is taken from the book Living with Wolves by Jim and Jamie Dutcher. Find out what is going on in your state to find ways to help wolves, and all predators, to flourish.
Wolf Commercials from Nanda Currant on Vimeo.
Conditions to Flourish: Reflections from Former Homeschoolers (DVD)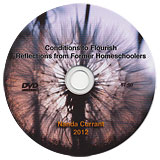 This hour-long video presents the perspectives of students, teachers, and parents five to fifteen years after they chose homeschooling as their educational path.
The film begins by presenting some of the primary reasons that home schooled children and their families have such rich educational experiences. Interviews with these homeschoolers tease out some of the risks and benefits of taking the homeschooling path, and choices along the way. This project involves educators that started their own programs, and those that chose to work within the school system. The film ends by exploring what young men and women who were homeschooled are doing today.
The film will inspire parents who want to venture into the homeschooling educational journey, and will hearten those who have homeschooled their children. It offers an answer in the simplest, yet elegant way so "no child is left behind."
View a 6 minute promo via Vimeo:
---
Reviews of Conditions to Flourish —
"The film truly impressed and inspired me in so many ways, it left me feeling re-energized about the good the homeschooling movement has done, and continues to do, for young people, for families, and for the world. On the aesthetic side, I appreciated the film visually — your compositions, choice of stills, handling of lighting, were all flattering to your interviewees, and made for a visually beautiful movie. All in all, I'd say it's got the potential to make a valuable contribution to the homeschooling movement, especially by way of inspiring folks to try, or to persevere in, homeschooling; and as good public relations about it, with its potential for educating a still-skeptical general public with facts and truths about homeschooling, rather than the usual ill-informed myths, assumptions, and stereotypes." — J.T. Osgood, educator
"If you think that homeschooling supports anti-social behavior among its students and can hamper the learning process, see this film. If you have issues with our system of education, see this film. Nanda does an artful job of weaving together the stories of students who homeschooled and now are engaged in the world making their mark. Throughout the film you learn that these men and women are articulate, happy, self-confident, and following their passions. This film offers a glimmer of hope for an educational system that is broken. This film is a must see." — Ward Smith, educator
"This is a very beautiful and thought provoking film which takes a careful, personal look at the heart of what learning is. As the mother of 2 children who attended both public and private schools and being a credentialled secondary teacher myself, I find myself now pondering what was missed by us not being a home-school family. For anyone contemplating home-schooling their kids, this film is a must see." —Virginia Mayer, parent
---
DVDs of Conditions to Flourish may be purchased for $12 each or two for $20. To inquire, email Nanda at .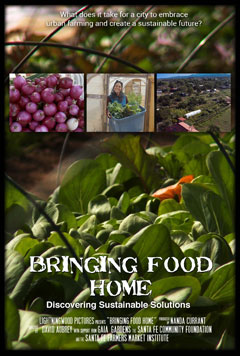 Bringing Food Home: Discovering Sustainable Solutions (Lightningwood Pictures)
BRINGING FOOD HOME is a film focusing on sustainable solutions for local food in Northern New Mexico. The documentary features several farms and gardens in the region practicing regenerative agriculture. Produced over the last two years, the documentary hopes to provoke constructive dialogue, inspiring Santa Fe and other cities to embrace urban agriculture as essential to a resilient community.
The flurry of reactions around the creation of Gaia Gardens, a one-acre farm within a residential zoning area in Santa Fe, provided the impetus for this documentary. The controversy has raised a larger question for the community: how will this high-desert city sustain itself in the future?
The film goes beyond the specifics of Gaia Gardens' circumstances to explore the need for visionary policy change, as well as a radical shift in our relationship to food. Local farmers, land-use professionals, educators and policy makers present insights into fostering a sustainable future.
See Bringing Food Home on Vimeo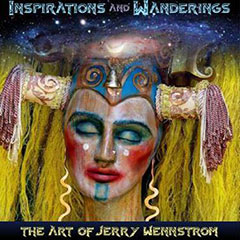 Inspirations and Wanderings — The Art of Jerry Wennstrom
This video of Jerry Wennstrom's work made by Nanda Currant shares both Jerry's wisdom and his recent series of sculptures on the Elements of Air, Earth, Fire and Water. The video includes other pieces; Faces of Eve, Feminine Balance, The Piano, Clyde Emerson TV, Nurse Log, The Confessional, Maiden Flight and other fine work.
See Inspirations and Wanderings on YouTube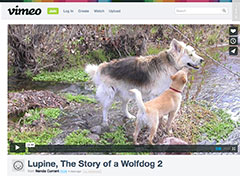 Lupine, The Story of a Wolfdog 2
"This is a story about Lupine who is a wolf dog. It introduces her life, some of her adventures and journey through life. The movie also introduces some of both Kevin Behan's writings and ideas, and the work of Wild Spirit Wolf Sanctuary and Leyton Cougar, a rescue program for wolves and wolf dogs. Lupine develops cancer and this film is to honor her life and spirit.."
See Lupine, The Story of a Wolfdog 2 on Vimeo
Beehive in My Heart
Beehive in My Heart is a film about abiding friendship and Alie's story of living with cancer and dying of cancer, and how she lived within the transformative power of being in the present moment.
Several small film projects I've done recently:
---
Journal/Blog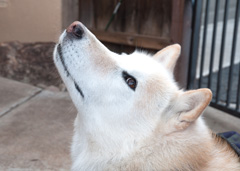 I've kept a journal about my journey with dog friend Lupine, who has been diagnosed with cancer.
---
Articles
---
Gila Journal Entries